Mr. JASON NAM – ITL Branch Manager – Road Transport Center, ITL Corporation
"Raising awareness of safe driving for drivers and green transport programs are our top priorities that we always concern about and plan to implement regularly. In addition to our business, we focus on absolutely safe driving before and behind the wheel, to ensure the safety of drivers and society."
Questions 1: As an expert in the field of road freight forwarding, can you please share your opinions on the impact of the Covid-19 pandemic on this market?
The Covid-19 pandemic has caused negative effects and impacted on the transportation companies in Vietnam Logistics industry, especially in the field of inland container trucking. Because the container trucking industry is associated with the country's import and export activities and these activities are completely dependent on the world economy.
Due to the effects of the disease in this period, many factories have to suspend operations, the supply/demand is less, the volume of goods needed to be transported is less, leading to the transport, pick-up and delivery of goods in the supply chain to be significantly reduced.
This has caused great impacts on the operations of enterprises providing warehousing services, bonded warehouses, transportation and customs services,…decreasing yields and revenue significantly. In addition, the labor resource issue in this period also greatly affects production and business activities of the transportation enterprises.
Therefore, to adapt to the new situation and maintain business growth momentum, businesses are forced to have plans to change promptly in accordance with the market situation.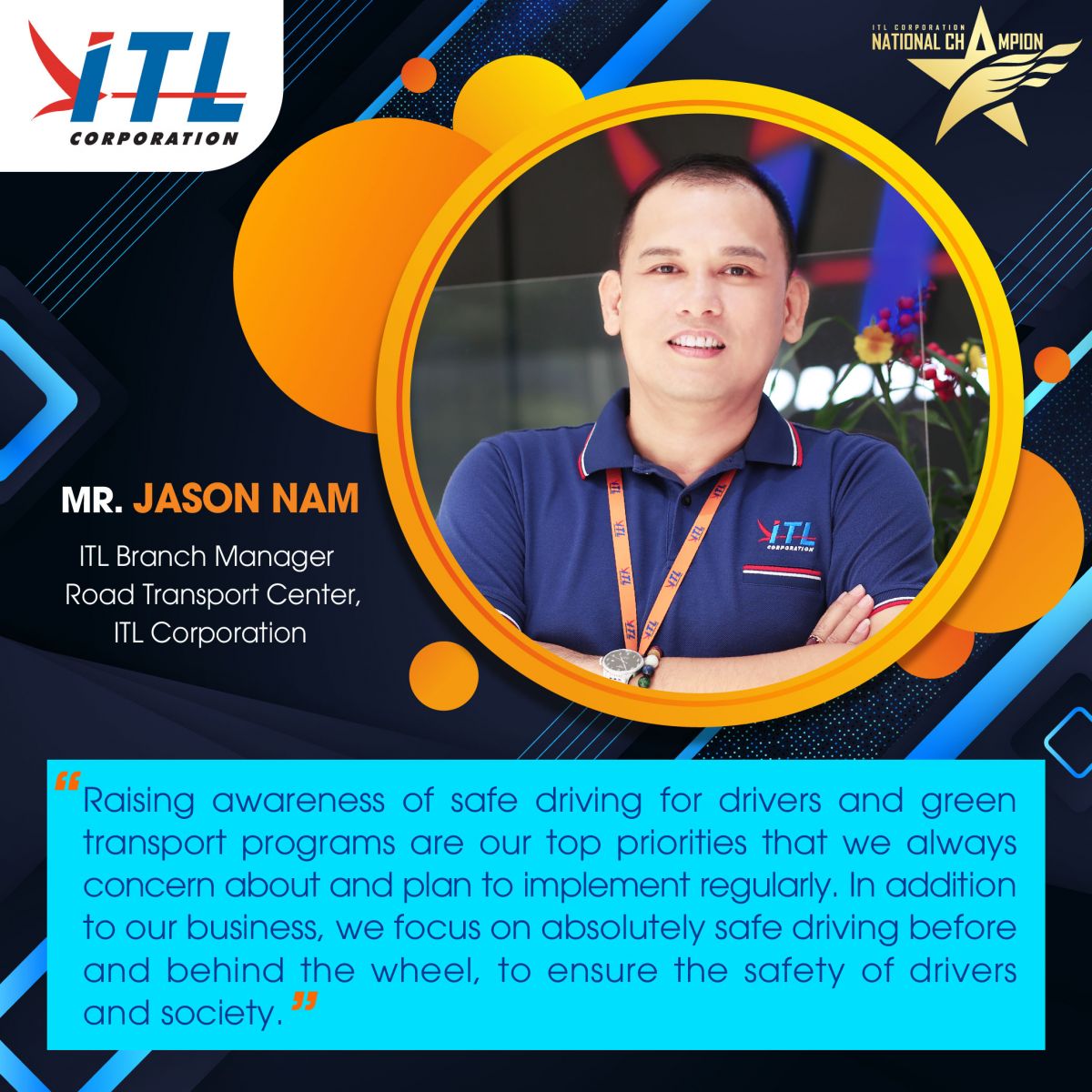 Question 2. As a Head of ITL Branch – Road Transport Center, ITL Corporation, can you please share your business's upcoming directions and strategies in the field of road freight forwarding in response to the Covid-19 pandemic?
Road Transport Center is a subsidiary of ITL Corporation. We own a fleet of trucks serving the South-North road transport, including more than 150 container trucks and 400 trailers to be allocated at the 3 Logistics centers in Hai Phong, Da Nang, Ho Chi Minh city. This will provide customers with a wide range of value options via our high quality trucking solutions.
We are lucky to have a great lesson for ourselves before the Covid-19 pandemic. That was in 2014-2015 when we focused on agricultural products for export to China and as soon as there was a change in policy between the two countries, the source of goods was forced to stall and this had caused impacts on Road Transport Center at that time.
From this big lesson, we have looked back the whole process and made a huge change in our business direction. Accordingly, in order to create a firm development for our business in the volatile market situation, we have built a business strategy focusing on the key goals, including:
Focus on building a team of capable and professional staff
The fleet of trucks operated in a professional direction, and specialized in routes
Must have a firm supply of goods: Focus on finding diversified sources of goods, focusing on industrial zones, manufacturing factories and essential products that are suitable to the needs of many markets such as Europe, the US,…
Control and optimize operating costs and improve productivity, utilize and promote the strengths of the workforce
Create short-term goals for each individual, fleet, project's trucks to boost the team's performance and productivity
In addition to the top priority that we always take it important and maintain in any circumstances is Safety, we are applying some business directions and strategies in the crisis period of Covid-19 pandemic:
Strive to create more added values for our customers
Don't chase yield
Don't chase revenue
Optimize operating costs by allocating costs reasonably for each project, from which to consider the actual efficiency of operations to have appropriate policies. Optimizing operating costs from restructuring the fleet and container trucks to cut costs, improve production and business efficiency, contribute to helping Road Transport Center have better business results in the crisis than the forecast made earlier.
Focus on developing medium and big projects, bringing all container trucks operated by the Road Transport Center to serve for major project cargos in order to overcome cost management issues. Cooperating with the affiliates for serving for other short routes to create a firm source of goods. Thanks to this policy, during the last time, when some transportation companies have to stop and be forced to lay off employees, we still can maintain our operations and guarantee income for our employees
Control effectively usage of container trucks and property
Find the best cost-optimized solutions for our customers during this period
Focuse on training and improving the quality and working skills of the staff
Question 3. It is known that Road Transport Center is very interested in raising awareness of safe driving for drivers and green transport programs, can you please share more about these activities and its meaning?
Raising awareness of safe driving for drivers and green transport programs are our top priorities that we always concern about and plan to implement regularly. In addition to our business, we focus on absolutely safe driving before and behind the wheel, to ensure the safety of drivers and society.
Along with raising awareness of safe driving for drivers and green transport programs for ITL Corporation's Transportation Business Units such as Defensive And Eco-Driving Competition, Sustainable Green Freight And Logistics that are held annually, we regularly organize the training sessions and awarding certificates to drivers on safe driving skills, updating knowledge on traffic laws, eco-driving to save fuel and reduce emissions into the environment, inviting lecturers who are experts from prestigious organizations, Traffic Police to train our drivers.
With our efforts, in June 2019, ITL Corporation and Road Transport Center were honored to receive the GFA Label Leaf Level ONE from the Green Freight Asia for its implementation of the Green Transport program. This is a prestigious guarantee of the commitment to environmental protection of ITL Corporation and Road Transport Center in the professional Logistics field.