Tập Đoàn ITL Tổ Chức Hai Khóa Học Lái Xe Phòng Vệ
On last June 28th, ITL Corporation organized the two training courses on "Defensive And Eco-Driving" and "Transporting Dangerous Goods" for the drivers of the BUs under ITL Corporation: FTL Road Transport Center, DT Distribution team, Dash LTL Distribution team and ITL Binh Duong in the FTL Road Transport Center, Binh Duong branch. This is an annual training program organized by ITL since 2018 under the project "Green Freight Transport And Logistics In The Mekong Region".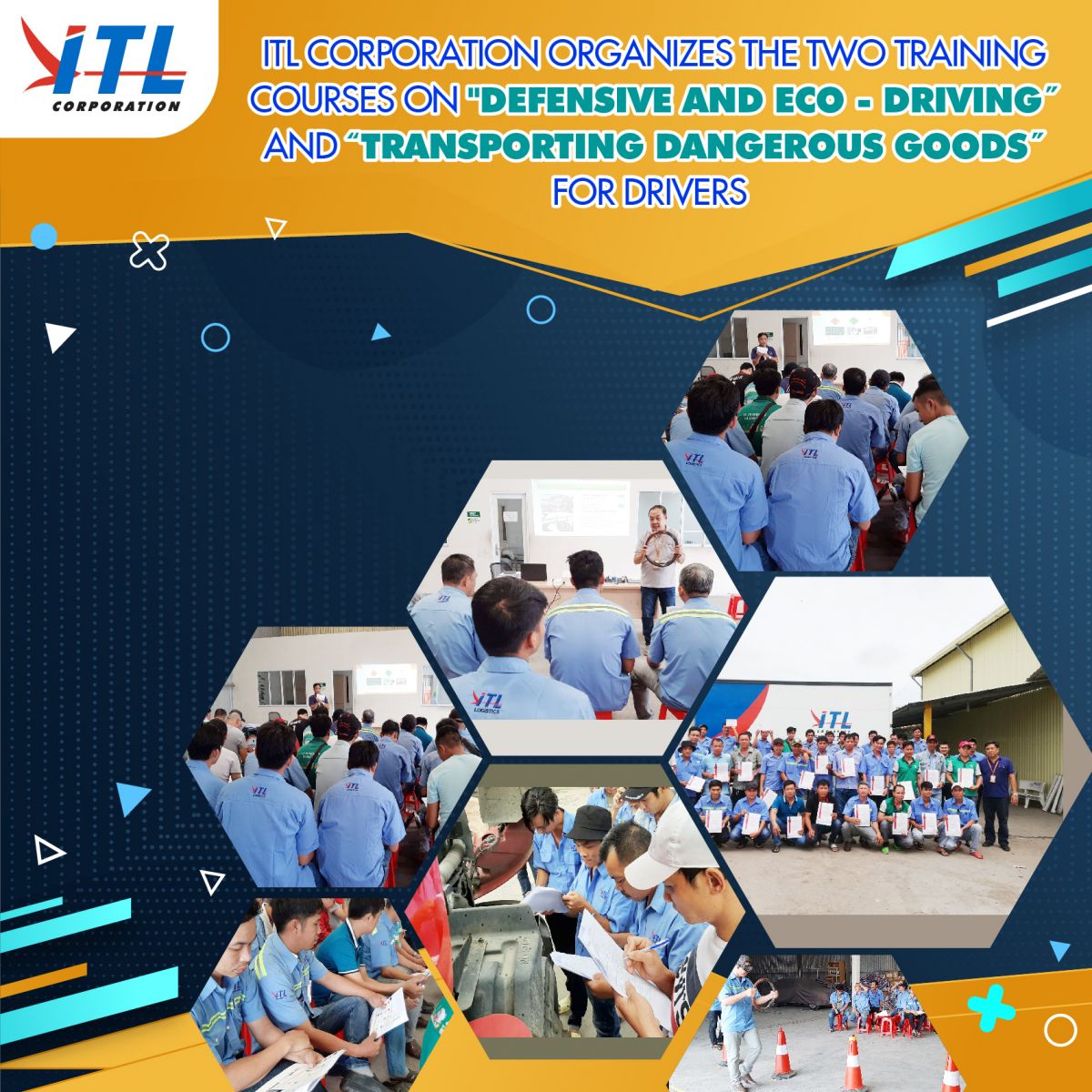 Attend this "Defensive And Eco – Driving" course, all the drivers have been equipped with the important knowledge, theoretical lessons and practical skills contributing to improve the driving skills safely and to save fuel on driving. This course has been instructed by Mr. Victor Vinh, Permanent Manager of ITL Technical Committee.
The main contents of the course include:
View/ attitude about driving safely
Concentrate and get ready for driving
Prepare before driving
Vehicle equipment
Blind spot
Vehicle inspection
Rules of driving safety
Driving in different situations
For the "Transporting Dangerous Goods" course, the drivers were instructed by Mr. Cyrus Lam – ITL Fleet Manager about the skills of transporting dangerous goods:
Classification of Dangerous Goods and Hazardous Substances
Dangerous goods transportation connection of 5 modes of transportation
Mandatory obligations of safety for people involved
Determinine Dangerous goods on road transport and risks
Mark the means of transport and packaging methods
International requirements and national regulations on Dangerous Goods
With the pratical activities, the courses have provided the excited lessons for the drivers. These are the driving situations that the drivers can meet  every day, but they may not pay attention to the extremely important points such as: Fastening seat belt, checking glass, going around the trucks … In addition, the drivers also watched the videos recorded with a lot of lessons learned on driving on the road. This has also provided more knowledge for the drivers to learn from the videos.
At the end of the courses, the representative of ITL presented the completion certificates to the drivers who participated in these meaningful training courses.In addition to the business activities, ITL Corporation focuses on the trainings for the driver team, especially on the defensive and eco-driving programs aiming to raise the awareness of saving fuel, protecting the environment, and ensuring the safety on driving.Earlier in June 2019, ITL was honored to receive the GFA Label Leaf Level One on June, 2019 from Green Freight Asia Organization (GFA) for its commitment and efforts to implement the green freight program and initiative to increase the efficiency of fuel usage and minimize CO2 emissions in Vietnam.